Inspiring
Breaking the Cycle

Sometimes unemployment can feel like a never-ending cycle; as if there's some massive barrier in the way that you feel like you'll never overcome. At Crosby Training, we have hundreds of links and contacts that you can use to find help with your issues and start moving forward.
Your Goals
Success
Scroll down the page for the story of Dave Kelly, a former Crosby Training client who has gone on to build his own charity, Daisy UK; a truly inspiring cause created by a truly inspiring man.
Vital Links
We strongly recommend contacting the following organisations should you be struggling with an issue and in need of help. You can click on the logos to head directly to the associated website. If you can't find what you're looking for, please ensure you call us on 0151 922 5500 and we can signpost you to a suitable organisation.
Dave Kelly
After becoming blind at the age of 30, Dave Kelly formed Daisy UK as a response to the isolation and upset he'd experienced. He now calls himself a blind man with a vision, and delivers inspirational speeches across the region, offering vital support to others with disabilities; both physical and mental. He is a regular visitor to our courses and we're more than happy to refer any of our customers onto Daisy UK should they require Dave's help. To find out more, you can visit Daisy UK's website at: www.daisyuk.co.uk
See More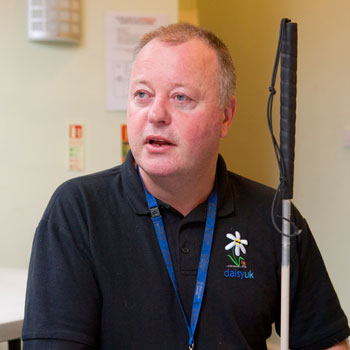 Latest News
Perhaps you'll find some inspiration in the latest Crosby Training news; click on the stories to read more about what we've been up to.
Job Centre Event We sponsored and attended a Job Centre Event at the Liner Hotel in Liverpool. The event took

Open days at Belle Vale JCP are always a great chance to meet new people and catch up with

In August 2019, Formby Manor - a new luxurious care home from New Care - opened its doors for